Upgrading to VEGA
Updated a year ago
UPGRADE YOUR RIG
Our Ready Rig products are designed to be modular, allowing them to be easily upgraded and modified to suit your evolving needs. Whether you're a professional filmmaker or just starting out, our vest systems are designed to grow with you as your career progresses. 
With the ability to upgrade to the latest innovations at any time, our tools are designed to be adaptable and flexible to meet the changing demands of the industry. Whether you need to add additional support or expand your capabilities, you can always stay ahead of the curve with Ready Rig on your back.
Ready Rig VEGA

Key features of the Ready Rig VEGA:
Improved stabilization of over 70%

Innovative elastic counterbalance system for smooth action and weight support

Fingertip control throughout the entire boom range, providing consistent and even weight support at both low and high ranges of the system.

Ability to stow and unstow the ProArms with ease

VEGA Arm Clamps for setting and returning to tension settings and quick, on-the-fly adjustments

Backside handgrip for guidance during tricky shots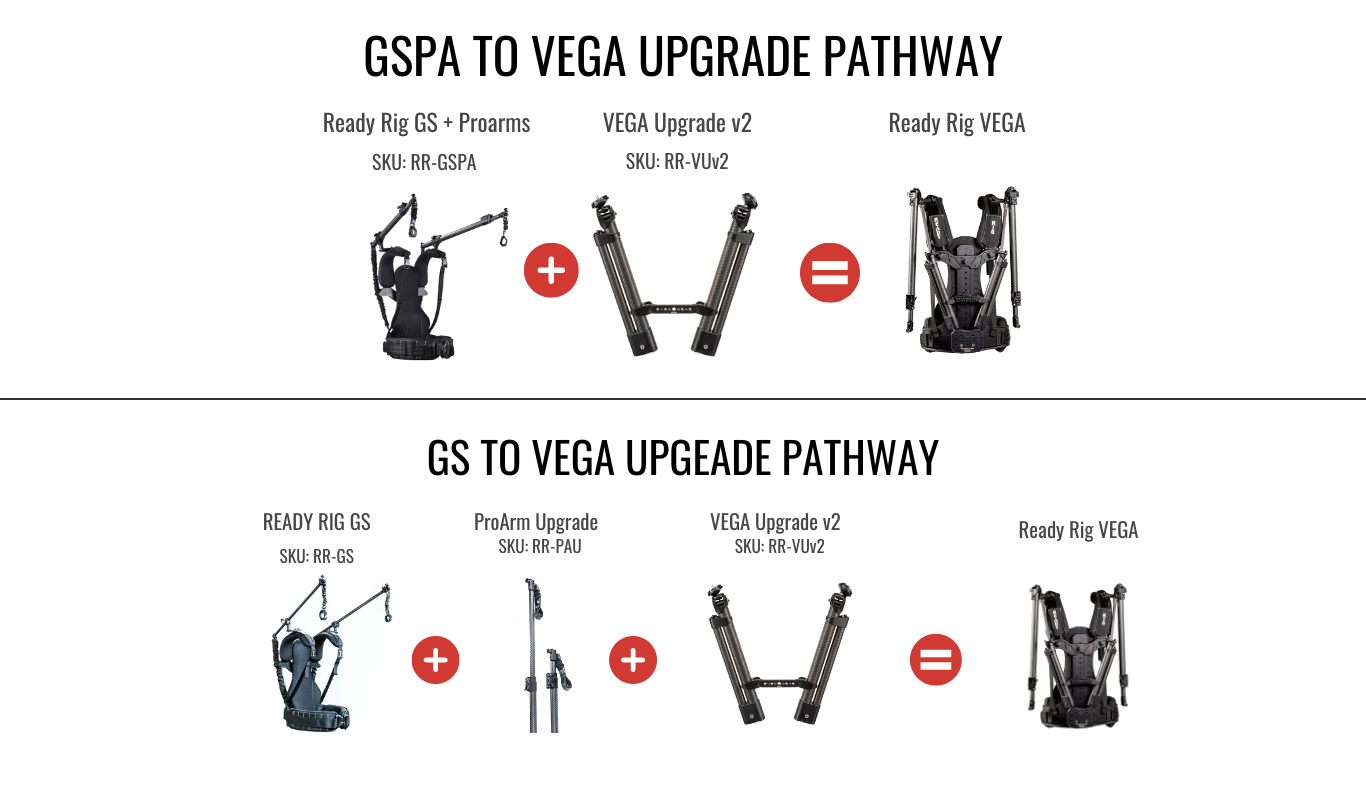 The Ready Rig VEGA Upgrade v2 is a counterbalance module that installs onto the Ready Rig GS + ProArm and replaces the GS bungee cords. This next-generation upgrade offers improved stabilization of over 70% compared to the Ready Rig GS + ProArm. With its innovative elastic counterbalance system, the VEGA provides smooth action and weight support, allowing your camera package to float weightlessly at all ranges. The VEGA v2 also significantly reduces footsteps producing a smoother, more stable shot.
The VEGA upgrade gives you the ability to stow and unstow the ProArms, and the VEGA Arm Clamps allow you to set and return to specific tension settings. These clamps also enable quick, on-the-fly adjustments to the tension without the ProArms shooting back.
VEGA also includes a backside handgrip, which allows a spotter to guide you through even the trickiest shots.
The VEGA Upgrade is user-installable and comes with all of the required hardware and tools. The installation process only takes about 30 minutes, so you can easily upgrade your camera setup on your own
If you're interested in learning more about the VEGA Upgrade and how it can improve your camera setup, we recommend watching this quick start video. The video will give you a good idea of how the whole system functions and how you can get the most out of it.
Was this article helpful?